Jan 28, 2018
It's A Wrap!
After 13 unforgettable days, an unprecedented number of attendees, over 90 filmmakers and special performers, and more than 60 World, North American, US, and Florida Premieres, we have officially wrapped the 21st annual Miami Jewish Film Festival! Thank you to everyone who volunteered, attended, donated, voted, and applauded!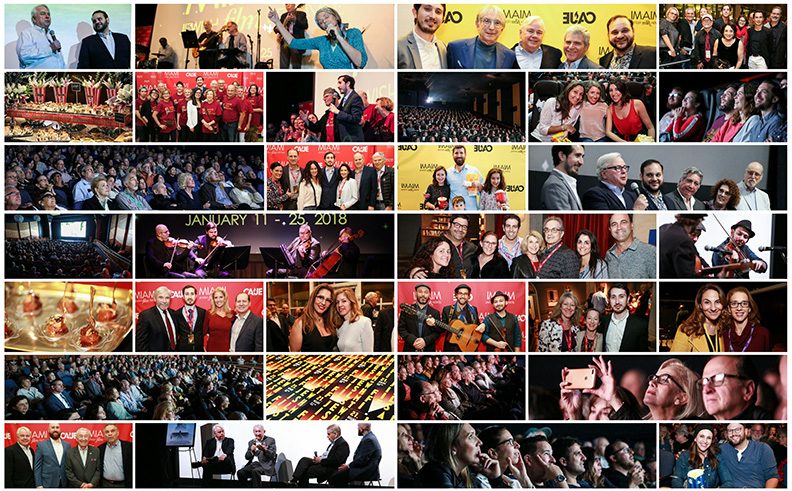 Planning our Festival starts a year in advance, and without the incredible loyalty and hard work of our staff, committee, and more than 400 members, donors, business partners, community funders, and most important of all, YOU, our dedicated fans, our Festival would not be the success it is today. With your support, our Miami Jewish Film Festival has achieved record growth this year, becoming one of the largest and most respected Jewish film festivals in the world!
With 39 sold out screenings (three-quarters of the lineup!), a record attendance, and even more great cinematic memories, it's been a hugely successful year that firmly established the Miami Jewish Film Festival as a cultural destination event and a landmark for all film lovers!

As we wrap the 21st annual Miami Jewish Film Festival, we are thrilled to announce the winning films at this year's edition! The Critics Prize prize went to Ofir Raul Graizer's The Cakemaker, the Audience Award for Best Documentary Film was a tie (a first for the Festival!) between Alison Chernick's Itzhak and Dennis Scholl & Kareem Tabsch's The Last Resort, the Audience Award for Best Narrative Film went to Christian Duguay's A Bag of Marbles, and the Short Film Competition Award presented by Film Movement went to Erin Morris' Strings!
We congratulate all the filmmakers on your well-deserved honors and success!
We can't wait to start work on bringing you another jam-packed Miami Jewish Film Festival program in 2019 for our 22nd year! So be sure to SAVE THE DATE as we look forward to celebrating the Festival's 22nd annual edition with all of you again on January 10-24, 2019!
As we look ahead, we hope you will continue your support of the Festival by becoming a Member of our Film Society! If you love film, and if you love the expansion our Miami Jewish Film Festival has achieved these last 21 years, then please join our growing and enthusiastic community of film-goers and help us create an even better Festival for our 22nd annual edition!