Jan 28, 2022
2022 Miami Jewish Film Festival Awards Announced
After fourteen days and 148 film premieres, the 2022 Miami Jewish Film Festival is pleased to announce five major prizes for feature filmmaking and short films. Honorees, named in total below, represent new achievements in global independent storytelling. Bold, intimate, and humanizing stories prevailed across categories, with the Audience Awards for Best Narrative Film going to iMordecai and Best Documentary Film going to The Automat; the Critics Jury Prize awarded to The Swimmer; and the Next Wave Jury Prize awarded to All Eyes Off Me.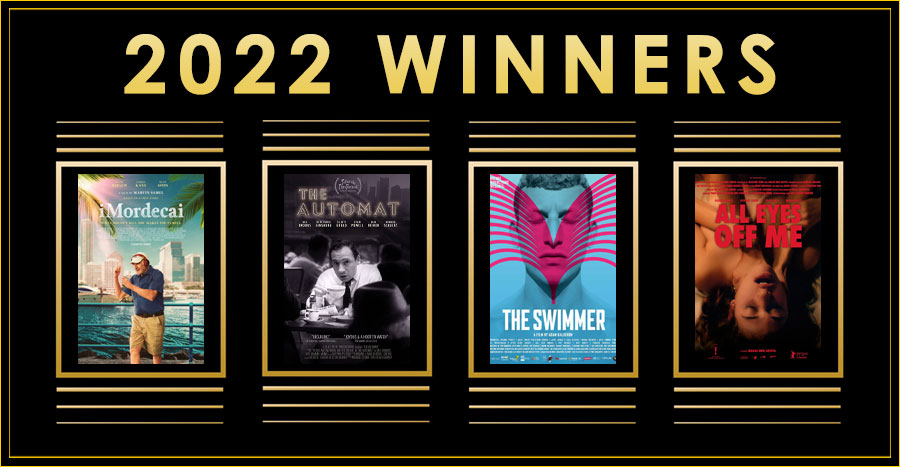 The awards announcement marks a key point of the 2022 Festival, where 100 feature-length and 48 short films — selected from more than 2,500 submissions — were showcased online via the Festival's custom-built online platform that was accessed across the United States, as well as at 17 different live outdoor events in Greater Miami.
See below for a complete list of 2022 Miami Jewish Film Festival Jury Prize winners and jury statements, as well as the audience awards. We congratulate all the filmmakers on their well-deserved honors and success!
JURY PRIZES
This year's Critics Prize jurors were members of either the Florida Film Critics Circle or South Florida journalists, and Next Wave jurors were composed of 21-35-year-olds who were either college students or young professionals. We extend our deepest appreciation to this esteemed jury panel for their informed viewpoints and thoughtful deliberation.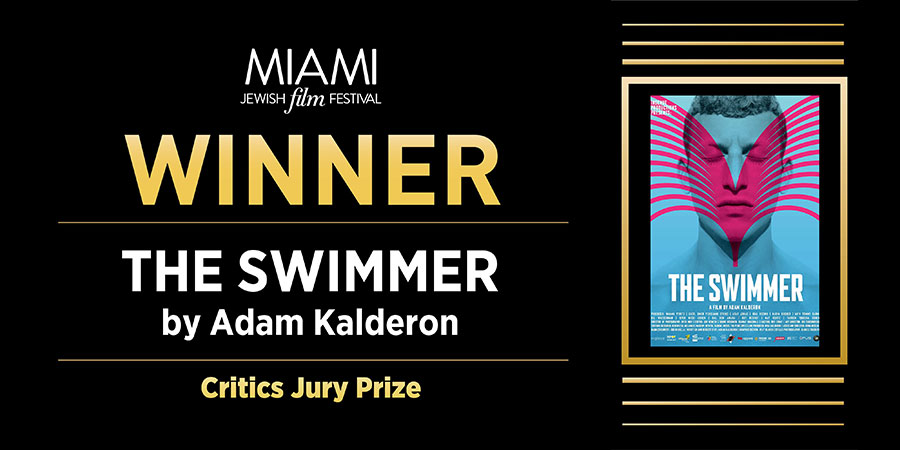 Critics Jury Prize: The Swimmer
Adam Kalderon, Director • Israel

"​What happens when a desire to connect poses an obstacle to reaching an ambitious goal? Welcome to the Darwinian world of this year's winner, a tense pressure cooker of a movie that uses the template of a sports film to explore a young man's journey of self-discovery. The setting might be contemporary, but this winning character study revels in 1980s vibes, down to its stylish look and synthesizer-driven score, completely unafraid to go to some very dark corners of the human psyche. Bolstered by its tightly constructed screenplay, a rich supporting cast, and a truly spectacular finale, we are proud to give the Miami Jewish Film Festival's Critics Prize to writer-director Adam Kalderon's fabulous The Swimmer."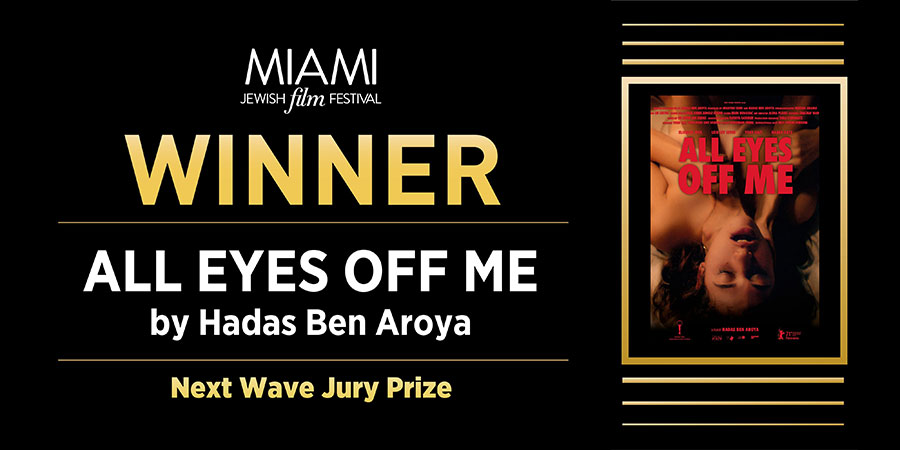 Next Wave Jury Prize: All Eyes Off Me
Hadas Ben Aroya, Director • Israel

"​In thinking about the next wave of filmmakers and the next generation of Jewish voices on screen, this year's jury selected a film that considers issues of contemporary life through an experimental and Jewish lens. We hope this award helps bring this innovative film to new audiences and film lovers, and wish the filmmaker continued success at the festival and beyond. We are delighted to announce the winner of the 2022 Miami Jewish Film Festival Next Wave Jury prize, All Eyes Off Me."
AUDIENCE AWARDS
A longstanding tradition at MJFF, the Audience Award is celebrating its milestone 25th year. Audiences watching films at home via digital screenings or in-person at live events voted online. All publicly screened feature and short films were eligible. Votes were generated, collected, and tabulated through electronic audience ballots.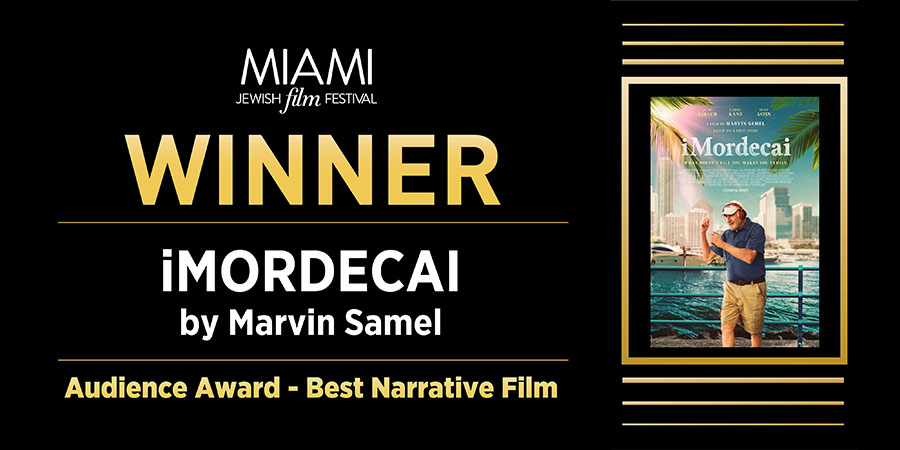 The Audience Award for Best Narrative Film was presented to: Marvin Samel, for iMordecai (USA, 2022) — A heart-warming comedy about being young at heart and living one's life to the fullest, iMordecai is a love letter to the city of Miami starring Academy Award-nominated and two-time Emmy-winning actor Judd Hirsch. Cast: Judd Hirsch, Sean Astin, Carol Kane, Stephanie J. Block, Azia Dinea Hale.
The Audience Award for Best Documentary Film was presented to: Lisa Hurwitz, for The Automat (USA, 2021) — Featuring testimonials from a slew of esteemed former customers and luminaries such as comedy icons Mel Brooks and Carl Reiner, as well as Ruth Bader Ginsburg, Colin Powell, Elliot Gould, and Starbucks CEO Howard Schultz, this fascinating film delves deep into America's most iconic automat restaurant chain, Horn & Hardart. Cast: Mel Brooks, Carl Reiner, Ruth Bader Ginsburg, Elliott Gould, Howard Schultz.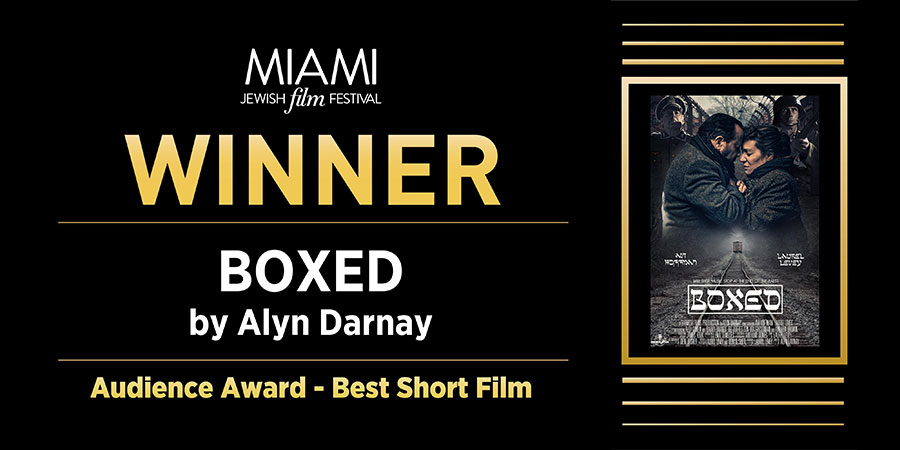 The Audience Award for Best Short Film was presented to: Alyn Darnay, for Boxed (USA, 2021) — Traumatized in a boxcar en route to a Nazi concentration camp, a husband-and-wife dance team find their bond of love strengthened. Cast: Avi Hoffman, Laurel Levey, Alex Coren, Ira Grossman.