Apr 30, 2021
2021 Miami Jewish Film Festival Awards Announced
After fourteen days and 148 film premieres, the 2021 Miami Jewish Film Festival is pleased to announce five major prizes for feature filmmaking and short films. Honorees, named in total below, represent new achievements in global independent storytelling. Bold, intimate, and humanizing stories prevailed across categories, with the Audience Awards for Best Narrative Film going to Here We Are and Best Documentary Film going to Petit Rat; the Critics Jury Prize awarded to Josep; and the Next Wave Jury Prize awarded to Kiss Me Kosher.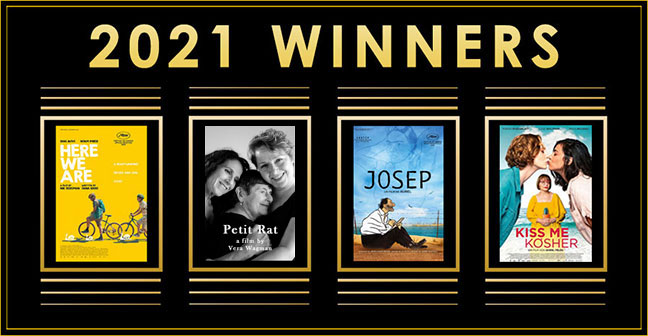 The awards announcement marks a key point of the 2021 Festival, where 101 feature-length and 47 short films — selected from more than 2,500 submissions — were showcased online via the Festival's custom-built online platform that was accessed across the United States, as well as at 10 different live events in Miami, including outdoor screenings and drive-in experiences.
See below for a complete list of 2021 Miami Jewish Film Festival Jury Prize winners and jury statements, as well as the audience awards. We congratulate all the filmmakers on their well-deserved honors and success!
JURY PRIZES
This year's Critics Prize jurors were members of either the Florida Film Critics Circle or South Florida journalists, and Next Wave jurors were composed of 21-35-year-olds who were either college students or young professionals. We extend our deepest appreciation to this esteemed jury panel for their informed viewpoints and thoughtful deliberation.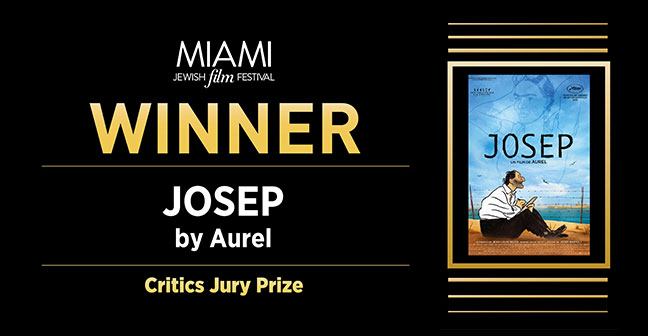 Critics Jury Prize: Josep
Aurel, Director • Spain-France-Belgium

"The impulse to create under the most harrowing conditions propels this riveting portrait of life in a French concentration camp following the Spanish Civil War. Making inspired use of different styles of hand-drawn animation, renowned cartoonist Aurel, here making his feature directing debut, has crafted a portrait of triumph over adversity that seamlessly glides backward and forward in time and conveys the way one's memory can play tricks on us as we grow older, all without losing his storytelling drive. His subject is another cartoonist, Catalan artist and political refugee Josep Bartoli, and his resiliency, mostly seen through his unlikely friendship with a soldier who sees in him a fellow human being, is nothing short of inspirational. It's a moving tribute from one artist to another that avoids sentimentality at every turn. We are proud to award the 2021 Miami Jewish Film Festival's Critics Jury Prize to the animated feature Josep."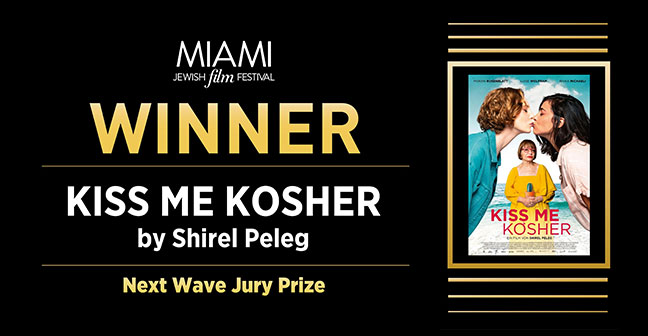 Next Wave Jury Prize: Kiss Me Kosher
Shirel Peleg, Director • Israel

"In thinking about the next wave of filmmakers and the next generation of Jewish voices on screen, this film explores themes and exposes ideas towards what it means to be a contemporary Jew today. In Kiss Me Kosher, Shirel Peleg opens the door to same-sex marriage, interfaith relationships, conflicting ideologies, and the generational divide. She is a promising filmmaker and we're excited to see what she does next."
AUDIENCE AWARDS
A longstanding tradition at MJFF, the Audience Award is celebrating its 24th year. Audiences watching films at home via digital screenings or in-person at live events voted online. All publicly screened feature and short films were eligible. Votes were generated, collected, and tabulated through electronic audience ballots.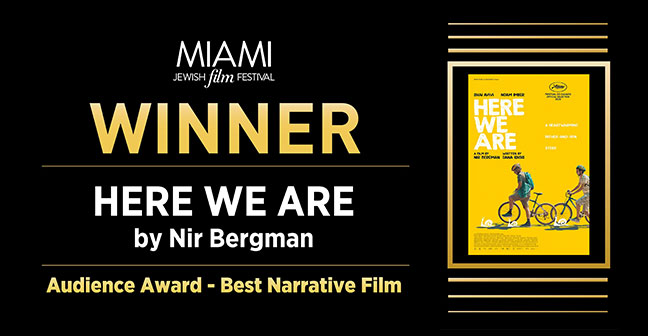 The Audience Award for Best Narrative Film was presented to: Nir Bergman, for Here We Are (Israel, 2020) — A devoted and protective father about to place his autistic son in a home for special needs decides to take him instead on a one-way journey away from their hometown. Escaping their respective lives, the pair embarks on an eventful trip across Israel, from Haifa to Bee'r Sheva, Eilat, Tel Aviv and small towns in between. Cast: Shai Avivi, Noam Imber, Smadi Wolfman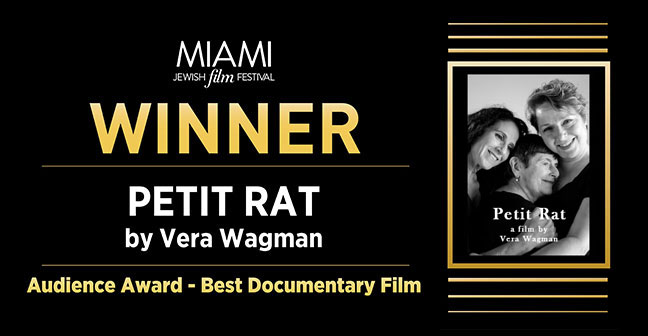 The Audience Award for Best Documentary Film was presented to: Vera Wagman, for Petit Rat (USA, 2021) — In 1940, a Jewish girl's dream of becoming a ballerina is destroyed by World War II. She vows that if she has daughters, they will become dancers. Nearly 80 years later, she and her two daughters confront the wounding impact of that pledge. Cast: Fernande Wagman, Deborah Wagman, Vera Wagman.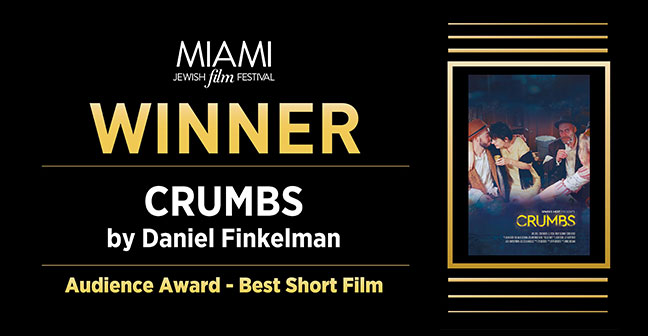 The Audience Award for Best Short Film was presented to: Daniel Finkelman, for Crumbs (USA, 2020) — Based on a true story that took place on April 18, 1943, a small group of surviving Jews gather to celebrate Passover as gunfire and mortars rain down around them. Cast: Malky Goldman, Eli Rosen, Melissa Weisz.