Date
Location
Tickets
4/22 - 4/29
VIRTUAL SCREENING
WATCH
Miami Premiere
Here We Are
Directed by Nir Bergman
Israel | 94 minutes | 2020
Hebrew with English subtitles
An official selection of the Cannes Film Festival and graced by two fantastic lead performances, Here We Are is a film suffused with the triumphs, the sadness, and the quiet moments of tenderness that make up so much of our lives. Israeli auteur Nir Bergman (MJFF 2018 film Saving Neta) returns with this soulful drama that touches on family ties, the rights of the differently-abled, and the sadness of aging. Uri (Noam Imber from MJFF 2017 film Beyond the Mountains and Hills) is too old to continue living with his father Aharon (Shai Avivi from MJFF 2017 film One Week and a Day and MJFF 2018 film Longing), a stubborn divorcé and Uri's loving caregiver. Their cocooned, codependent situation is upended when Uri's mother insists he enter a specialized facility to attain independence. Deeply reluctant to let go, Aharon escapes with Uri on an adventure-filled, often humorous trek. But with time catching up, both men must learn how to say goodbye. Suffused with emotion and graced by deeply felt performances, this life-affirming two-hander was nominated for ten Israeli Academy Awards, with wins for Best Director, Screenplay, Actor, and Supporting Actor.
Accompanying the film premiere is a discussion with director Nir Bergman and moderator Rabbi Julie Jacobs. To view the conversation please click here.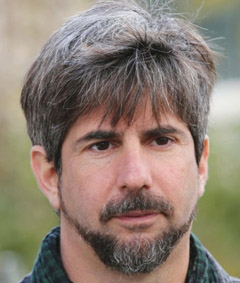 Nir Bergman is one of Israel's top filmmakers. His films have won more than 15 international awards including prizes at the Berlin Film Festival, Palm Springs Film Festival, and Tokyo Film Festival, amongst others. He is also the co-creator, writer, and director of the popular TV show In Treatment.
| | |
| --- | --- |
| Foreign Title | Hine Anachnu |
| Director | Nir Bergman |
| Countries of Production | Israel |
| Year of Presentation | 2020 |
| Language(s) | Hebrew with English subtitles |
| Premiere Status | Miami Premiere |
| Runtime | 94 minutes |
| | |
| --- | --- |
| Principal Cast | Shai Avivi, Noam Imber, Smadi Wolfman |
| Sponsor(s) | Lisa & David Pulver, and Jodi & Paul Tartell |
| Award(s) | An official selection of the 2020 Cannes Film Festival |