Dec 28, 2018
Miami Jewish Film Festival Named "Best Of Miami!"
We're very thankful and utterly humbled to have been named by Miami's Community Newspapers as BEST OF MIAMI! Your continuous support of the Miami Jewish Film Festival means the world to us and we vow to keep bringing you the most exciting films from around the world.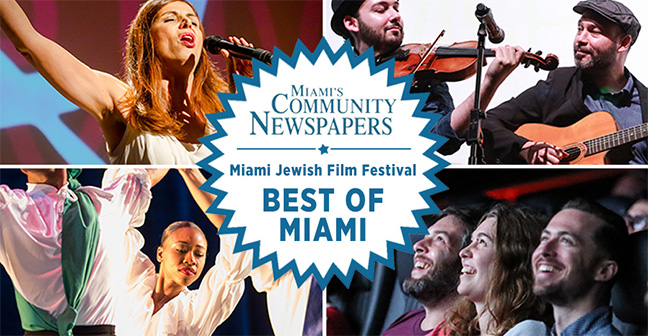 With our 2019 Festival right around the corner, kicking off January 10-24, 2019, you will have a chance to discover great laughs, great loves, and great memories at the largest Jewish cultural event in Florida. This year's program features more than 80 film premieres, 7 Academy Award entries, 12 world premieres, 29 Israeli films, 10 marquee events & live performances, and 25 filmmakers and special guests, all taking place at 15 different venues across Greater Miami.
If you value the Miami Jewish Film Festival and our year-round celebration of the best in world cinema, consider supporting our work by becoming a member, donor, or just attending the Festival this new year. Together, we can ensure that our Greater Miami community will continue to experience the best cultural arts events all year long.
We look forward to seeing you at the movies!
MORE INFORMATION: 
Tickets for the Festival are now on sale to the public and sales continue throughout the Festival. Patrons are encouraged to purchase tickets online. In addition to $14 single tickets, MJFF offers Festival badges for $295. 

Follow the Miami Jewish Film Festival on Facebook (/miamijewishfilmfestival) or Twitter (@MiamiJFF) for updates and the latest information about the Festival and attending filmmakers. Join the conversation using the hashtag #mjff on social media.