Jul 1, 2022
Summer Movies Under the Stars
The Miami Jewish Film Festival and the City of Miami Beach's OnStage! program are thrilled to announce the second annual Summer Movies Under the Stars film series that will be hosted for free outdoors over the next three months. From July 7 through September 15, the series will bring classics, family favorites, and exciting blockbusters across the city every Thursday night starting at 8:30pm. All the events are open to the public and will be presented at four different public parks in Miami Beach, including Lummus Park, Altos Del Mar Park, Muss Park, and Pride Park. The program is dedicated to safely bringing the South Florida community together and lifting everyone's spirits around the shared cinematic experiences that the Miami Jewish Film Festival is known for.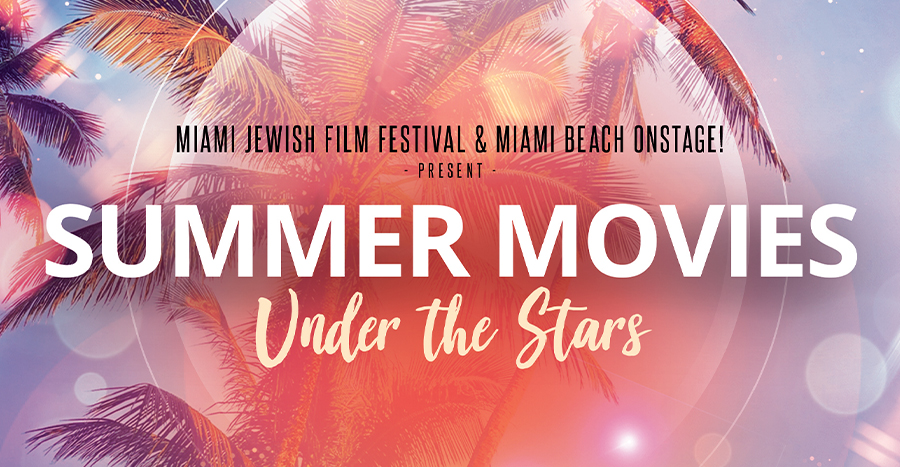 The series kicks off on Thursday, July 7 with a newly restored presentation of the Academy Award-winning Hollywood action blockbuster Top Gun, and continues on July 14th with a special presentation of Spider-Man: No Way Home and on July 23rd with the 45th Anniversary presentation of George Lucas' iconic sci-fi saga Star Wars: A New Hope, the story that launched one of the most renowned franchises in film history.
Other highlights in the program include the 25th anniversary presentation of The Fifth Element, which will be presented in partnership with Popcorn Frights and in tribute to Bruce Willis, as well as Robert Zemeckis' groundbreaking technical marvel Who Framed Roger Rabbit, the high-spirited family adventure Honey, I Shrunk the Kids starring Rick Moranis, the 35th anniversary of the cultural phenomenon Dirty Dancing starring Patrick Swayze & Jennifer Grey, the Academy Award-nominated The Mitchells vs the Machines produced by Miami native Phil Lord, and the spectacular Marvel Studios blockbuster Doctor Strange in the Multiverse of Madness.
Get all shook up as the summer series closes out with Oscar-nominated director Baz Lurhmann's epic, big-screen spectacle of American music icon Elvis on Thursday, September 15th at Pride Park.
Guests are encouraged to bring a blanket, lawn chairs, drinks, snacks, and even pets to the movies to make themselves at home.
There is no better spot than the City of Miami Beach to catch a free movie under the stars, and this year's selection provides audiences with an incredible range of engaging cinematic experiences. We are thrilled to be launching our second season of this incredible partnership with Miami Beach OnStage!, providing even more film lovers with the opportunity to gather together and enjoy film under Miami Beach's dazzling stars. Ensuring access to accessible, affordable, and transformative arts and cultural experiences is a core tenant of our Miami Jewish Film Festival, and we are so excited to host free movie magic with our amazing city as backdrop all summer long over the next three months. We invite families and friends to join us and enjoy the sense of connection found by going to the movies and creating new summer memories.
The Summer Movies Under the Stars series is a free public event for friends, families, and film fans to experience together. If you enjoy this program and all that MJFF provides year-round to our community, then consider supporting us and becoming a Member today so we can continue presenting the best in world cinema through our dynamic programs.
Find the complete schedule listing showtimes and locations for the Summer Movies Under the Stars Series below:
Summer Movies Under the Stars