Apr 6, 2020
Introducing MJFF Presents Short Film Showcase
As a special thank you to the brave people staying home and doing their part to help keep our community safe, the Miami Jewish Film Festival is proud to present a special curated online series of short films culled from the archives of the Festival. As part of the series, a new short film showcase will be rolled out every week celebrating short films from a past Festival edition providing a moment of entertainment and refuge in a world unknown. Each week we will highlight short films featuring comedy, sci-fi, animation, documentary, and stories from the city we call home. To view films from this week's short film showcase visit our exclusive Youtube channel here.

While we cannot gather and share that magical experience of being in a theater together for now, it's important for us that we still stay socially and spiritually connected with our community. We believe in the power of artists to bring us together, and in this spirit, we wanted to bring these artists and the Festival experience to our community's doorstep. At this incredibly relevant time when we most need our spirits lifted and feel some joy, we hope audiences leave our virtual showcase deeply touched, moved, and entertained.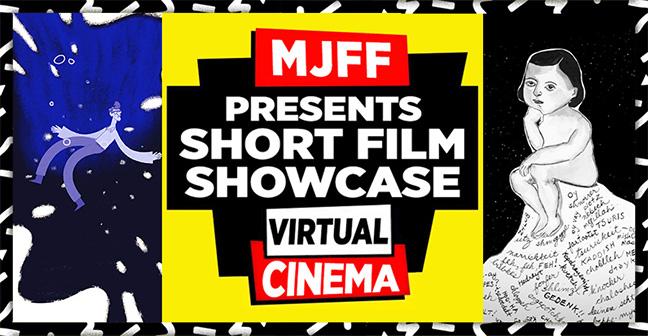 In the last seven years, the Miami Jewish Film Festival has premiered more than 120 short films from 20 countries, films from emerging and established filmmakers who received well-deserved industry recognition, worldwide visibility, and an important launching pad for their continued development as professional filmmakers. We're thrilled to celebrate all these filmmakers once again who invested so much time and talent in their work and received such a transformative experience at our Festival. We hope South Florida film lovers will stay committed to their immediate surroundings by celebrating with us these incredible films and filmmakers through this unique virtual experience.
In a time when we are all reflecting on life in small spaces, we wanted to inspire all of you film lovers to take a journey with our filmmakers to places unseen by many. We are determined to overcome this time of anxiety and social distancing by joining together.
You can find all the selected short films in the MJFF Presents Short Film Showcase below and start watching them now:


MJFF Presents Short Film Showcase Vol. 1
I Was A Child of Holocaust Survivors (Directed by Ann Marie Fleming, Canada)
Nyosha (Directed by Yael Dekel & Liran Kapel, Israel)
Paddle Ball (Directed by Avi Belkin, Israel)
Woody Before Allen (Directed by Masha Vasyukova, USA)

MJFF Presents Short Film Showcase Vol. 2
A Thing So Small (Directed by Mizmor Watzman, Israel)
Binding (Directed by Aaron Ellis & Katarzyna Plazinska, Poland)
Blossom (Directed by Yonatan Tal, Israel)
Eden Rests (Directed by Natali Chen & Hadar Sitruk, Israel)
Fading Note (Directed by Hani Dombe, Israel)
God Is Kidding (Directed by Boaz Balachsan, Israel)
How to Make It to the Promised Land (Directed by Sam Zalutsky, USA)
I'm A Miztvah (Directed by Ben Berman, USA)
In the Still of the Night (Directed by Erich Steiner, Austria)
Layla (Directed by Luna Matar, Israel)
Load (Directed by Robert Moreno & Niv Shpigel, Israel)
Paul (Directed by Adam Bizanski, Israel)
Sammy (Directed by Ruud den Drijver, Netherlands)
Shadow Puppets (Directed by Adam Bizanski, Israel)
Sketches from Munich (Directed by Ram Schahaf, Israel)
The Visit (Directed by Lawrence Horwitz, USA)
White Mist (Directed by Itay Netzer, Israel)
You Are Me (Directed by Peter Speyer, UK)

MJFF Presents Short Film Showcase Vol. 3
70 Hester Street (Directed by Casimir Nozkowski, USA)
Born in Jerusalem and Still Alive (Directed by Yossi Atia, Israel)
Brut (Directed by Svetlana Filippova, Russia)
German Shepherd (Directed by Nils Bergendal, Sweden)
Ground Floor (Directed by Asya Aizenstein, Israel)
Insight (Directed by Elad Ayzen, Gil Leron & Shahar Madmon, Israel)
Love is Blind and Deaf (Directed by Gur Bentwich, USA)
Matices (Directed by Saul Masri, Mexico)
Mirrors (Directed by Lee Dror & Yali Herbet, Israel)
Paris on the Water (Directed by Hadas Ayalon, Israel)
The Train (Directed by Asher Grodman, USA)

MJFF Presents Short Film Showcase Vol. 4
How Long, Not Long (Directed by Michelle & Uri Kranot, Israel)
In Other Words (Directed by Tal Kantor, Israel)
Jewish Blind Date (Directed by Anaëlle Morf, Switzerland)
Journey Birds (Directed by Daphna Awadish, Israel-Italy)
Miriam (Directed by Sarah Lederman, Belgium)
Old Folks (Directed by Guy Hayout, Israel)

MJFF Presents Short Film Showcase Vol. 5
A Love Letter to the One I Made Up (Directed by Rachel Gutgarts, Israel)
Bottomless (Directed by Roded Yizhaky & Doron Dahan, Israel)
Dad's Kite (Directed by Daniella Schnitzer & Omer Sharon, Israel)
Life Through A Lens (Directed by Jeffrey & Ronete Levenson, USA)
Niggun (Directed by Yoni Salmon, Israel)
Strings (Directed by Erin Morris, UK)
The Untangled Routine (Directed by Orit Oged, Israel)

MJFF Presents Short Film Showcase Vol. 6
Five Years After the War (Directed by Samuel Albaric, France)
Just Passing with Dr. Zussman (Directed by Anat Efrati & Yannay Matarasso, Israel)
Last Class in Baghdad (Directed by David Langer, USA)
Masterclass (Directed by Ewa Drzewicka & Weronika Kuc, Poland)
Perpetual Motion (Directed by Micah Smith, Israel)

MJFF Presents Short Film Showcase Vol. 7
Abeo (Directed by Lena Freidman & Gaia Ratner, Israel)
Alef B'Tamuz (Directed by Yael Reisfeld, Israel)
Dolor (Directed by Dotan Moreno, Israel)
Home (Directed by Anita Bruvere, UK)
Inside the Pipes (Directed by Adva Santo, Israel)
Lost & Found (Directed by Shimon Engel & Ofer Winter, Israel)
Shalva (Directed by Danna Grace Windsor, Israel)
Stitching a Life: The Story of Trudie Strobel (Produced by Cheri Gaulke, USA)
Sweater (Directed by Nick Borenstein, USA)
Tamou (Directed by Tzor Edery & Tom Prezman, Israel)