Jul 24, 2020
Live Discussion with the Talent Behind the Film "Resistance"
We are proud to announce that we will be hosting a virtual panel featuring actors Jesse Eisenberg (Academy Award nominee for The Social Network), Bella Ramsey (Lyanna Mormont from Game of Thrones), as well as director Jonathan Jakubowicz, and renowned cinematographer M.I. Littin-Menz on Thursday, July 30 at 7pm to support the release of their new film Resistance.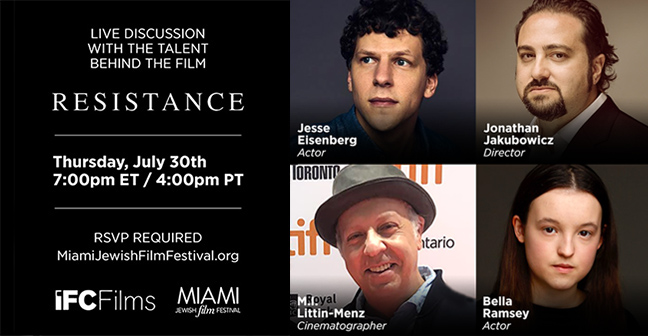 Resistance is based on the true story of legendary mime Marcel Marceau (portrayed by Jesse Eisenberg) and his efforts to save Jewish orphans during the Holocaust, together with the French Resistance. The online event is free and open to the public but advanced RSVP is required. Those who have not yet seen Resistance and would like to watch it before the online event can rent it at home by visiting resistance.movie/watch-at-home.
In these last several months as we have been challenged by the COVID-19 pandemic, the Miami Jewish Film Festival launched new initiatives and virtual platforms that offered audiences alternative forms of programming as a way to preserve strong community connection. As we continue to advance these efforts, we are thrilled to host this special online panel with the cast and crew of the critically acclaimed film Resistance. This special event is made possible with the support of IFC Films and Mean Streets Management.
Please register at this link if you would like to participate in the live discussion with the talent behind the film Resistance. Limited space is available and all registrations will be accepted on a first-come, first-served basis.