Jun 18, 2021
Annual Impact Report
In times of great change, the role of artists takes on an elevated importance. Their stories become vehicles for renewed meaning and beauty, and guide us toward a more nuanced and empathic view of the world. As the Miami Jewish Film Festival evolves, the bedrock of our organization and our mission remain unchanged: We are committed to providing support for artists to showcase their work, and to bringing audiences together to experience these stories.
In sharing with you our first-ever Annual Impact Report, we take a closer look at the breadth and impact of our artists and their work. In recalling another year of momentous accomplishments from the independent artists we champion, we are so grateful for those who support our Festival, and we invite you to explore the growth and movement of our organization as a whole.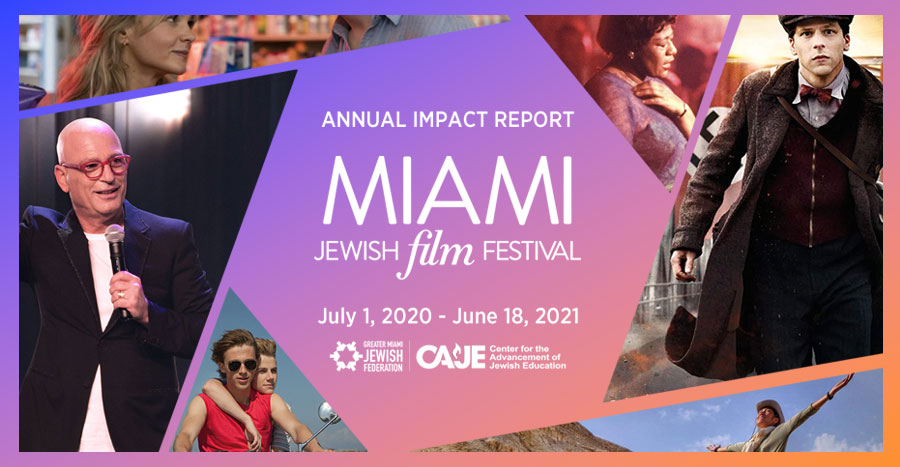 Our culture is shaped by the stories we tell. Since being launched 24 years ago, the Miami Jewish Film Festival has served to open doors for more storytellers and audiences of diverse backgrounds through all of its programming. We thank you for bringing this programming to life, changing culture, and changing communities. You make the Miami Jewish Film Festival possible.
The past year has affirmed the importance and power of sharing stories. Independent film continues to catalyze critical conversations that help us make sense of our changing world. As we come together – in our living rooms, pop-up drive-ins, under the stars alfresco, and soon, back in theatrical spaces – film is playing an essential role in keeping us connected. Story and technology both continue to break isolation, barriers, and borders.
Thank you for your support of our Miami Jewish Film Festival. We hope you will enjoy looking back at all we were able to achieve together this year, and will consider making a contribution to support our upcoming milestone 25th Edition taking place on January 13-27, 2022. Your gift will enable us to keep powering film and story whatever the future holds!
Click here to download the full 39-page PDF of the Miami Jewish Film Festival 2020-2021 Impact Report (2MB). The Festival's Impact depends on our audiences and membership. Click here to join or renew your membership.
Annual Impact Report