Nov 8, 2019
Festival Premier Badges Now On Sale!
The Festival Premier Badge provides an all-inclusive experience, offering unparalleled access to films and events during the Miami Jewish Film Festival's 23rd annual edition, occurring over 13 days from January 9-23. It is perfect for the film lover who wants access to all of the Festival's screenings and special events.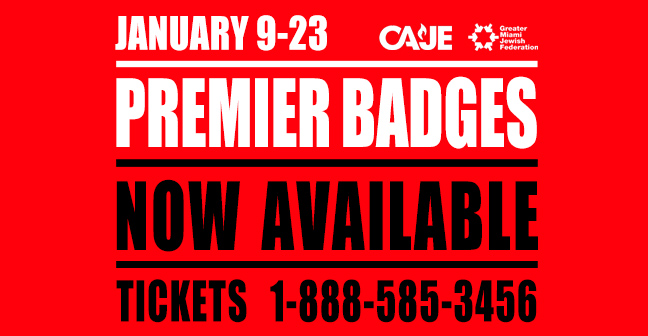 Purchase Your Premier Badge Now!
You may purchase your Premier Badge online, or by calling 1-888-585-3456
Please be aware that only a limited number of Premier Badges will be available for sale and they are certain to sell out. If you are a Festival Member at the Visionary, Star, Director, or Producer level, you will be issued your Premier Badges in early December. To become a Member of the Festival please visit our Membership page.
MJFF Members must email info@miamijewishfilmfestival.org or call 305-573-7304 to receive the exclusive promo code providing the Membership reduced price.
The 23rd annual Miami Jewish Film Festival program will be announced in December. Members will receive advance notice of the program, as well as the opportunity to purchase tickets before they go on sale to the public.