Dec 28, 2020
My Favorite Festival Memory Is _____
Community has been an essential part of the way forward during this difficult year. To say we couldn't do it without you would be an understatement. With the support and commitment from film lovers like you, in 2020, when so many organizations were forced to pull back or slow down, the Miami Jewish Film Festival didn't skip a beat! You inspired us to work our hardest to continue providing opportunities for more than 25,000 individuals at every age and stage of life to connect with the Festival and celebrate their love of film, their Jewish identities, and each other! None of this would have been possible without the generosity of dedicated community members like you.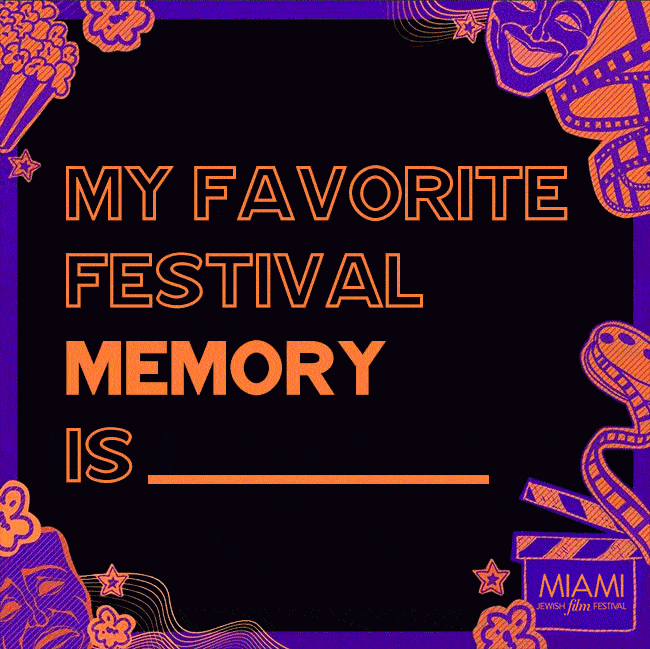 With our live programs suspended in 2020, you have kept the Miami film community alive. And one of the most heartening ways you have done that is by sharing your stories of when the Festival and film have left an impact on your life. We have been moved by those stories, so as we end the year, we wanted to share a few with you:
Adriana Halac, MJFF Member
"The opportunity MJFF has given us to be the first to witness a new film surrounded by the "makers" is an experience that compares when we watch a newborn. And to be able to share that feeling with our community is invaluable, especially now that we miss the amazing experience to be together sharing what we love."

Tammy Aronson, MJFF Board Member
"One of my fondest memories of MJFF dates back to 2013 at the former O Cinema. It was a three-film marathon day for me, and I had been waiting for my last film to start when a couple I didn't know took the seats next to me. We struck up a lively conversation – about movies, what we liked, and what we were hotly anticipating – and before we knew it the film had started. To this day, I look forward to seeing that couple at every MJFF. We've exchanged film notes for 7 years now and thinking of them brings me a smile. This memory reminds me of how much I enjoy the festival, not only for the wonderful people I meet but for the sense of community we feel together and of course, the incredible films we get to discover."
Malka Mordujovich, MJFF Member
"Year after year I look forward to the MJFF, it's the time to travel all around the world, without leaving Miami, and always I end up enriched, entertained and culturally growing from the experience. Many movies resonate in different ways. Right now I remember the feeling, after the documentary Ben-Gurion, Epilogue where his grandson Alon was in attendance. I told him that I met his grandfather 60 years ago in a kibbutz when I was in a program in Israel and his words are etched forever in my memory: "Girls like you we need in the Negev". Next day, same festival year (2018), I was transported again to that historical time, by the movie An Israeli Love Story, and all the juices, splendor, and emotions of youth, surged back, and I left the theater being 18-years-old again!"
Steven Oritt, Director of My Name Is Sarah
"My favorite experience at the Miami Jewish Film Festival was walking up on stage and introducing the North American premiere of my film My Name is Sara, to a sold out theater. I was born and raised in Miami and being able to first share the film with so many close friends and family in attendance, was very special. Looking out on the hundreds of people sitting there and seeing so many smiling, recognizable faces is a memory I'll never forget."
Alison Mars, MJFF Board Member
"One of the highlights of this past year's Miami Jewish Film Festival was the inaugural Shabbat Dinner for filmmakers. It was fascinating to interact and have one on one conversation with such talented film directors and producers. Hearing their stories and engaging in dialogue added insight and value to the films we'd be watching throughout the festival."
Michelle Rosinek, MJFF Member
"Over the years and especially this past season, the most memorable events for me were meeting and greeting the many fans of movies as well as the guest speakers that were highlighted during the 2-week festival."
Tod Lending, Director of Saul & Ruby, To Life!
"I had numerous wonderful experiences at the Miami JFF and there were a few that stood out as highlights for me. The first highlight was the Opening Night celebration that started with a beautiful reception of food, music, and pure celebration before my film screened to a sold-out audience. Following the screening, the two main characters of the film, both holocaust survivors, played their music to the audience and they were shown great respect and appreciation by the crowd. This touched me deeply and meant a great deal to the two survivors. Finally, there was a reception for filmmakers and other people associated with the festival at a private home and that was a beautiful time to meet new people, share ideas, and develop new friendships."
Hilda Peljovich, MJFF Member
"One of my greatest joys is attending the MJFF. Each year I dedicate two weeks to the festival — it's like making believe I'm traveling out of the country for two weeks and these are the tours I choose. Each movie is a different "excursion" and it is a terrific escape. I laugh and I cry and I learn a lot. It is an amazing experience and I look forward to the Festival every year."
Ferenc Török, Director of 1945
"My last movie 1945 received its World Premiere at the 2017 Miami Jewish Film Festival. What many people don't realize is that it premiered two weeks before the first official Berlinale screening! It's unheard of for a film to choose to not world premiere at the Berlinale, but it was one of the smartest decisions I ever made. I worked on 1945 for nearly 10 years. From the cold Hungarian winter it was a miracle to arrive at beautiful sunny and warm Miami. If it wasn't for the team at the Miami Jewish Film Festival, I would never have been able to secure theatrical distribution, which led to my film playing all over America, generating incredible press, and making more than $1 million dollars at the box office. It was all because of the Miami Jewish Film Festival and its amazing audience and team! I am forever grateful to the festival, I wouldn't have been able to achieve so many of my dreams without its tremendous support."
Michelle Hershenson, MJFF Member
"My very favorite MJFF memory is the Sunday in 2015 when we, as usual, chose to attend three movies. I believe the second movie of the day was Beneath the Helmet. When the movie ended, the entire audience broke into thunderous, spontaneous applause. It was a thrilling experience and later listening to the film's director and soldier from the movie was the icing on the cake."
Sharon & Kenny Glick, MJFF Members & Volunteers
"For the past many years as Festival volunteers, it was with pride and excitement that we saw our community happily step into theaters eager to share Jewish stories, traditions, values, and wonders in film."
Aaron Wolf, Director of Restoring Tomorrow
"Being a guest of the Miami Jewish Film Festival was an extraordinary honor and I didn't know it would be that until I got there. The entire Festival team brings such a passion that it rubs off on the audience and it rubs off on the guests, like me, creating an unforgettable excitement. Here's to you guys at MJFF! Keep bringing that passion as we rise above this pandemic with our love of film!"
Thank you all for being part of this film community and for your love of film. In this season of giving, consider counting the Miami Jewish Film Festival amongst your charitable priorities and help us continue providing these unique and meaningful experiences for our community. The work that we do to sustain our community is more important now than ever.
Though this year has looked much different than previous ones, our core belief remains the same as it was in 1997 when the Miami Jewish Film Festival launched its inaugural edition: community matters, diversity in storytelling matters, and film matters. By supporting our Festival, you are sharing your love of film and helping us strengthen our platform for our upcoming 24th Annual Edition, occurring April 14-29, 2021, and featuring the largest film program that we've ever assembled!
Thank you for all you do to help sustain a vibrant and thriving Jewish life in our beloved magic city! The staff of the Miami Jewish Film Festival can't wait to see you in the new year – in person or online!