Date
Location
Tickets
4/15 - 4/29
VIRTUAL SCREENING
WATCH
North American Premiere
My War-Torn Family
Directed by Benjamin Fischermann
Denmark | 59 minutes | 2020
Danish with English subtitles
Benjamin's grandfather and his grandfather's three older siblings survived the horrors of concentration camps during the Second World War. But instead of that ordeal forging an unbreakable bond between them, 30 years ago his grandfather chose to never speak to those very same siblings ever again. The war claimed his father and brother. So why did he turn his back on the survivors, the only people that would ever understand and share his pain? Every family has their mysteries and for as long as Benjamin can remember, this one has plagued him. In a race to reunite them before illness or death takes any chance of resolution away forever, he desperately tries to understand his grandfather's baffling motives. But as a young person who doesn't have the life experience of his elders, what he doesn't know is if his quest for the truth will help his war-torn family heal — or drive them even further apart?
Accompanying the film premiere is a discussion with director Benjamin Fischermann and moderator Peter Nelson. To view the conversation please click here.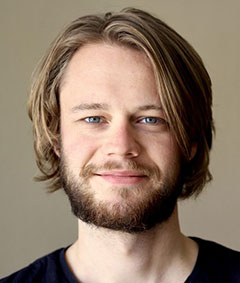 Benjamin Fischermann is a filmmaker based in Denmark. He works as a documentary filmmaker and composer for the multi-award-winning sound and music studio Supersonic CPH. My War-Torn Family is Benjamin's documentary feature film debut.
| | |
| --- | --- |
| Foreign Title | Krigen der splittede min familie |
| Director | Benjamin Fischermann |
| Countries of Production | Denmark |
| Year of Presentation | 2020 |
| Language(s) | Danish with English subtitles |
| Premiere Status | North American Premiere |
| Runtime | 59 minutes |
| | |
| --- | --- |
| Principal Cast | Benjamin Fischermann, Robert Fischermann, Salle Fischermann, Fanny Fischermann, Mogens Fischermann |