Date
Location
Tickets
4/15 - 4/29
VIRTUAL SCREENING
WATCH
Miami Premiere
Love It Was Not
Directed by Maya Sarfaty
Israel | 86 minutes | 2020
Hebrew and German with English subtitles
Transported to Auschwitz with 1,000 other Slovakian girls in 1942, Helena Citron, the daughter of a cantor, captured the heart of Franz Wunsch, a high-ranking Austrian SS Officer. Director Maya Sarfaty first introduces us to Wunsch's paramour through a photograph he had taken of her in Auschwitz. If not for the striped inmate attire and rather unpleasant surroundings, one would never guess that the seemingly healthy young woman smiling in the picture was a prisoner in an extermination camp. Nor would one believe that Helena's Nazi captor – responsible for brutalizing so many lives – would be the reason she and her sister, Roza, survived to tell the tale. 30 years after liberation, it is Helena who holds another's fate in her hands. Implored by Wunsch's wife to testify on behalf of the man who saved her from certain death, Helena must face the most difficult decision of her life. Remarkably documented and ingeniously executed, Love It Was Not seamlessly weaves interviews with seven female inmates who worked with Helena in the "Kanada" facility at Auschwitz, along with archival testimonies by Helena, Roza, and Wunsch recorded throughout their lifetime. The result of this nuanced voyage through contradiction and moral ambiguity is an utterly fascinating watch, bound to inspire endless debate and discussion.
Accompanying the film premiere is a discussion with director Maya Sarfaty and moderator Scott Bernstein. To view the conversation please click here.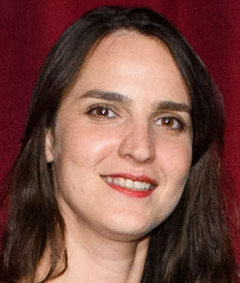 Maya Sarfaty is a graduate of Tel Aviv University's Steve Tisch School of Film and Television. She won the Student Academy Award for Best Foreign Documentary for her film The Most Beautiful Woman, the short film which Love It Was Not is based on.
| | |
| --- | --- |
| Foreign Title | Ahava Zot Lo Hayta |
| Director | Maya Sarfaty |
| Countries of Production | Israel |
| Year of Presentation | 2020 |
| Language(s) | Hebrew and German with English subtitles |
| Premiere Status | Miami Premiere |
| Runtime | 86 minutes |
| | |
| --- | --- |
| Principal Cast | Helena Citron, Franz Wunsch |
| Award(s) | Best Israeli Film at DocAviv Film Festival |