Date
Location
Tickets
4/15 - 4/29
VIRTUAL SCREENING
WATCH
Florida Premiere
Last Picture Show in Bucharest
Directed by Ludi Boeken
Israel | 75 minutes | 2020
Hebrew, French, Romanian with English subtitles
In 1941 the Bucharest Pogrom breaks out and as 10-year-old Eliahu watches the last picture show, he sees his father, the cinema owner, murdered by his next-door neighbor, the leader of the fascist militia. After surviving the massacre of Romania's Jews, Eliahu seeks justice; yet postwar Romania does not join him in this pursuit, nor does the Israel to which he emigrates. Learning that his father's killer is now fighting in Vietnam with the French Foreign Legion while he is fulfilling his own military service in Israel, Eliahu deserts and embarks on a quest for truth, justice, and revenge. This saga of Eliahu (later known as "Tony Nelson") unfolds at the 1955 Court Martial in which he stands accused of desertion for 846 days. Last Picture Show in Bucharest is inspired by a true story.
Accompanying the film premiere is a discussion with director Ludi Boeken and actress Julia Levy-Boeken. To view the conversation please click here.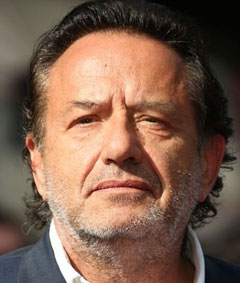 Ludi Boeken was a war correspondent for the BBC and also founder of Raphael Films, for which he produced such acclaimed films like Robert Altman's Vincent & Theo (1990) and Radu Mihaleanu's Train of Life (1999).
Director
Ludi Boeken
Countries of Production
Israel
Year of Presentation
2020
Language(s)
Hebrew, French, Romanian with English subtitles
Premiere Status
Florida Premiere
Runtime
75 minutes
| | |
| --- | --- |
| Principal Cast | Paul Diaconescu, Julia Levy Boeken, Eitan Anner, Cristian Balint |