Date
Location
Tickets
4/15 - 4/29
VIRTUAL SCREENING
WATCH
East Coast Premiere
It Takes a Family
Directed by Susanne Kovács
Denmark | 59 minutes | 2019
Danish with English subtitles
Susanne Kovács knows that her paternal grandparents survived the Holocaust and fled to Denmark to begin a new life. That's all she knows. The Hungarian couple kept their own story under lock and key throughout their lives and focused on immersing themselves into Danish everyday life as quickly as possible. A picture book life, seen from outside. To escape the memory of death, they smiled and remained silent. If no one sees the darkness, they hoped, normality becomes possible. But the unsaid did not fade but grew and finally began to darken the present. Now, Susanne wants to break the silence. But her probing questions bring back painful memories. Is she at all allowed to dig into a family history that holds so many ghosts from the past? And maybe there is more than one truth? It Takes a Family is a courageous investigation of her own family story that makes it clear that at some point it's no longer about guilt, but about forgiveness.
Accompanying the film premiere is a discussion with director Susanne Kovács and moderator Luna Goldberg, Education Manager at the Jewish Museum of Florida-FIU. To view the conversation please click here.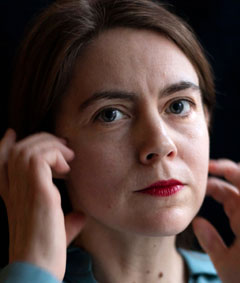 Susanne Kovács studied documentary filmmaking at the Danish Media and Journalism School. She previously studied fine art and narrative storytelling in Berlin, and filmmaking at The European Film College in Ebeltoft, Denmark. It Takes a Family is Susanne's documentary feature film debut.
| | |
| --- | --- |
| Foreign Title | De skygger vi arver |
| Director | Susanne Kovács |
| Countries of Production | Denmark |
| Year of Presentation | 2019 |
| Language(s) | Danish with English subtitles |
| Premiere Status | East Coast Premiere |
| Runtime | 59 minutes |
| | |
| --- | --- |
| Principal Cast | Susanne Kovács |