Date
Location
Tickets
4/15 - 4/29
VIRTUAL SCREENING
WATCH
Southeast US Premiere
In Your Eyes, I See My Country
Directed by Kamal Hachkar
Morocco-France | 75 minutes | 2020
Hebrew, Arabic, Amazigh with English subtitles
In this compassionate and lively documentary, Jerusalem musicians Neta Elkayam and Amit Hai Cohen journey to Morocco, their grandparents' native country, to discover their cultural and existential legacies. To expunge their sense of misplacement, they begin their adventure by soaking in the sites and sounds of their heritage. They visit old houses where their ancestors used to live and talk to neighbors who never left. They bear witness to a reality where Jews and Muslims live side-by-side without war. Though always grappling with their dual identities, each musical encounter along the way offers Neta and Amit a chance to self-reflect and reexamine their long-term aspirations. Back home, the band they created revisits and reimagines their common Judeo-Moroccan musical heritage and offers Israeli Jews an opportunity to learn and sing songs in Arabic. They hope that sharing their music will lead to cultural understanding and begin to heal the wounds of exile carried by their parents. With a gorgeously rich repertory of traditional songs, enchanting musical performances, and a deep and sincere humanism, In Your Eyes, I See My Country resurrects the dream of building bridges between cultures.
Accompanying the film premiere is a discussion with director Kamal Hachkar and moderator Ángeles Cohen. To view the conversation please click here.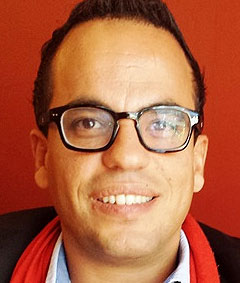 Kamal Hachkar is a critically acclaimed French Moroccan filmmaker of Amazigh ("Berber") Muslim heritage. Kamal's feature film debut, From Tinghir to Jerusalem, earned the prestigious Tangier Award, one of the highest honors in Moroccan cinema.
| | |
| --- | --- |
| Foreign Title | Dans tes yeux, je vois mon pays |
| Director | Kamal Hachkar |
| Countries of Production | Morocco-France |
| Year of Presentation | 2020 |
| Language(s) | Hebrew, Arabic, Amazigh with English subtitles |
| Premiere Status | Southeast US Premiere |
| Runtime | 75 minutes |
| | |
| --- | --- |
| Principal Cast | Neta Elkayam, Amit Hai Cohen |
| Sponsor(s) | Moj & Robert Danial, and Michelle & Robert Diener |