Date
Location
Tickets
4/15 - 4/29
VIRTUAL SCREENING
WATCH
Miami Premiere
Book of Curses
Directed by Iouri Goroulev
Israel | 65 minutes | 2020
Hebrew, English, Russian with English subtitles
This compelling film sends prolific Israeli author, poet, and filmmaker Michael Kagan to Poland and Belarus in pursuit of a lost diary from 1942 and "the voices behind the pages." As he explores the old diary's "sweeping views of the descent to hell" encountered by Benjamin Berkovich and those around him in the Holocaust, Kagan is confronted and challenged with Berkovich's final message calling for revenge without mercy and a curse on humankind. Tracing Berkovich's story involved tracing parts of Kagan's own family history, as his relatives came from the same town Navarodok and were incarcerated in the same ghetto as the diarist. His father, Jack Kagan, managed to escape and join the Bielski partisans, made famous by the Hollywood action movie — Defiance. The Book of Curses is informed by interviews with a Nazi hunter, a spiritual psychologist, the grandson of a survivor, and a Holocaust survivor herself, who speaks about the life-threatening risks she took as a young woman under the Nazi regime.
Accompanying the film premiere is a discussion with producer & film subject Michael Kagan and moderator Rabbi Adam Gindea. To view the conversation please click here.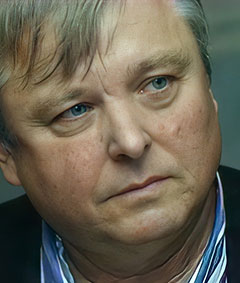 Iouri Goroulev graduated from the Moscow Cinema Institute in 1982. Since 1975, he has worked at the BelarusFilm state studio as a cameraman, and more recently, as a director. He is the founder of Stopshot, a company that specializes in the production of documentary films.
Director
Iouri Goroulev
Countries of Production
Israel
Year of Presentation
2020
Language(s)
Hebrew, English, Russian with English subtitles
Premiere Status
Miami Premiere
Runtime
65 minutes
| | |
| --- | --- |
| Principal Cast | Michael Kagan, Havi Dreifuss, David Silberklang, Jack Kagan |