Date
Location
Tickets
7:30 PM - WED 1/22
BRAMAN MILLER CENTER
Free RSVP
Centennial Anniversary Presentation
The Golem
Directed by Paul Wegener
Germany | 86 minutes | 1920
German with English intertitles
Widely recognized as the source of the Frankenstein myth, the ancient Hebrew legend of the Golem provided actor & director Paul Wegener with the substance for one of the most adventurous films of the German silent cinema. Suffering under the tyrannical rule of Rudolf II in 16th-century Prague, a medieval rabbi creates a giant warrior (Paul Wegener) to protect the safety of his people. Sculpted of clay and animated by the mysterious secrets of the Kabbalah, the Golem is a seemingly indestructible juggernaut, performing acts of great heroism, yet equally capable of dreadful violence. When the rabbi's assistant takes control of the Golem and attempts to use him for selfish gain, the lumbering monster runs rampant, abducting the rabbi's daughter and setting fire to the ghetto. With its remarkable creation sequence — a dazzling blend of religion, sorcery and special effects — coupled with the grand-scale destruction in its climax, The Golem was one of the greatest achievements of the legendary UFA Studios, and remains an undeniable landmark in the evolution of the horror film genre.
The restoration of this German Expressionist masterpiece will be presented with a live music score by Mvstvries from the Bribery Corporation.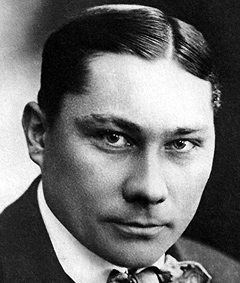 Paul Wegener was a German actor, writer and film director known for his pioneering role in German expressionist cinema. The story of the Golem proved so fascinating that he retold it again and again, rewriting it, directing it, and playing the creature himself, in a remarkable artistic quest to understand the power of religious myth.
| | |
| --- | --- |
| Foreign Title | Der Golem |
| Director | Paul Wegener |
| Countries of Production | Germany |
| Year of Presentation | 1920 |
| Language(s) | German with English intertitles |
| Premiere Status | Centennial Anniversary Presentation |
| Runtime | 86 minutes |
| | |
| --- | --- |
| Principal Cast | Paul Wegener, Albert Steinrück, Ernst Deutsch, Lyda Salmonova |