Date
Location
Tickets
7:30 PM - WED 1/22
O CINEMA SOUTH BEACH
Rush Line
Southeast US Premiere
Painted Bird
Directed by Václav Marhoul
Czech Republic-Slovakia-Ukraine | 169 minutes | 2019
Czech, German, Russian, Slavic Esperanto with English subtitles
A young Jewish boy encounters the worst of humanity as he wanders Eastern Europe during World War II in this savage, searing, and shocking adaptation of Jerzy Kosiński's infamous Holocaust novel that is the Czech Republic's official entry for the Academy Award for Best International Feature Film. Based on Kosiński's novel of the same name, The Painted Bird is an unsparing plunge into the darkest corners of the human soul. Not for the faint-hearted, this masterful yet very challenging film tells the story of a Jewish child, who, after being separated from his parents, wanders Nazi-occupied Eastern Europe during World War II, meeting senseless violence and inhumane torture along the way. Featuring a star-studded cast including Harvey Keitel, Stellan Skarsgård, Barry Pepper, Julian Sands, and Udo Kier, the harrowing story unfolds through a series of tableaux that take our helpless protagonist on a brutal journey into a period of twisted and intensive hatred and fear of the other. While there are occasional glimpses of compassion, this film adaptation does not stray from Kosiński's graphic accounts of sexual assault, child abuse, and unrelenting violence that are far harder to face with open eyes. Although a powerful account of antisemitism, is also a bleak portrait of the cruelty of human nature.
Viewer discretion advised. This film contains explicit and graphic imagery that is not suitable for children.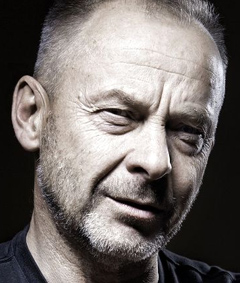 Václav Marhoul was born in Prague. He graduated from the Film and TV School of the Academy of Performing Arts (FAMU) in Prague and has worked as a screenwriter, actor, producer, and event organizer in addition to directing feature films.
Director
Václav Marhoul
Countries of Production
Czech Republic-Slovakia-Ukraine
Year of Presentation
2019
Language(s)
Czech, German, Russian, Slavic Esperanto with English subtitles
Premiere Status
Southeast US Premiere
Runtime
169 minutes
| | |
| --- | --- |
| Principal Cast | Stellan Skarsgård, Harvey Keitel, Udo Kier, Julian Sands, Barry Pepper, Petr Kotlar |
| Award(s) | Czech Republic's entry to the Academy Awards for Best International Feature Film |