Date
Location
Tickets
8:00 PM - THU 1/23
MIAMI THEATER CENTER
Rush Line
East Coast Premiere
Forgiveness
Directed by Guy Amir & Hanan Savyon
Israel | 104 minutes | 2019
Hebrew with English subtitles
The biggest cultural phenomenon out of Israel since Fauda arrives in Miami! Guy Amir and Hanan Savyon, the acclaimed writers and stars behind Israeli smash-hits Asfur, Ma Bakarish, and MJFF 2018 acclaimed film Maktub (one of the biggest box office hits in Israeli history!), return to the big screen with this resoundingly fun and warm-hearted caper comedy. Set during the Days of Awe in a small town in southern Israel, Guy and Hanan play two friends, Nissan and Shaul, who are bumbling thieves that are hilariously and desperately attempting to pull off a heist. While Nissan flees abroad, Shaul is caught and sent to prison. Featuring an all-star cast including Alon Aboutboul (The Band's Visit), Noa Koler (also in the Festival with The Conductor), and Tsahi Halevi (also in the Festival with Mossad), Forgiveness tells the crowd-pleasing story of what happens when Shaul is released and goes home to seek forgiveness from his wife, while Nissan comes back to Israel as a newly observant Jew also asking forgiveness from his friend.
Featuring a Closing Night Party and Awards Ceremony with a reception, wine, and live music from 7:00pm-8:00pm.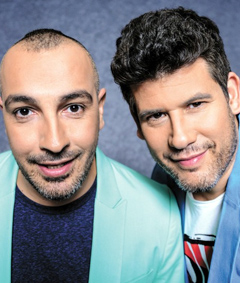 Guy Amir & Hanan Savyon have over the past 10 years written more than 280 episodes across seven different TV series. Among their credits are Asfur, which received more than 80 million views in Israel, as well as the acclaimed film Maktub, which premiered at MJFF 2018.
| | |
| --- | --- |
| Foreign Title | Mechila |
| Director | Guy Amir & Hanan Savyon |
| Countries of Production | Israel |
| Year of Presentation | 2019 |
| Language(s) | Hebrew with English subtitles |
| Premiere Status | East Coast Premiere |
| Runtime | 104 minutes |
| | |
| --- | --- |
| Principal Cast | Guy Amir, Hanan Savyon, Alon Aboutboul, Noa Koler, Tsahi Halevi |
| Sponsor(s) | Evensky & Katz / Foldes Financial |