Date
Location
Tickets
8:30 PM - MON 1/14
REGAL CINEMAS SOUTH BEACH
Rush Line
Southeast US Premiere
To Dust
Directed by Shawn Snyder
USA | 91 minutes | 2018
Winner of the Audience Award and the Best New Narrative Award at the Tribeca Film Festival, To Dust stars Géza Röhrig (MJFF 2016 Academy Award-winning film Son of Saul) as Shmuel, a grieving Hasidic cantor in upstate New York who is struggling to make peace with the recent death of his wife. While the rest of his community urges him to move on, his two young sons believe that Shmuel's odd behavior may mean that their father has been possessed by a dybbuk (a demon believed to be the dislocated soul of a dead person). Breaking his own religious customs, Shmuel approaches a bungling science teacher, Albert (Matthew Broderick), to help him understand the process of decomposition and hopefully put a stop to the nightmares he keeps having. Albert is reluctant at first, but soon becomes Shmuel's unwitting partner as the two embark on a series of misadventures and outrageous experiments to better understand — and come to terms with — his wife's passing. Produced by renowned actors Emily Mortimer, Alessandro Nivola, and Ron Perlman, To Dust is a quirky, unconventional dramedy about grief and acceptance.
Director Shawn Snyder will be in attendance to introduce the film and participate in an extended conversation with the audience afterward.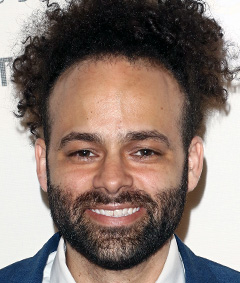 Shawn Snyder graduated from Harvard University with a degree in religion and has been named as one of Filmmaker Magazine's "25 New Faces of Independent Film." To Dust is Shawn's feature film debut.
Director
Shawn Snyder
Countries of Production
USA
Year of Presentation
2018
Language(s)
Premiere Status
Southeast US Premiere
Runtime
91 minutes
| | |
| --- | --- |
| Principal Cast | Matthew Broderick, Géza Röhrig, Bern Cohen, Sammy Voit |
| Sponsor(s) | Amy & David Scharlin, and Jania Victoria & Dean Ziff |
| Award(s) | Winner of the Audience Award and the Best New Narrative Award at the Tribeca Film Festival |