Date
Location
Tickets
7:30 PM - WED 1/23
MICHAEL-ANN RUSSELL JCC
Buy
Florida Premiere
Ancient Law
Directed by E.A. Dupont
Germany | 135 minutes | 1924
German with English intertitles
Celebrating its 95th anniversary, The Ancient Law is an important piece of German-Jewish cinematic history, contrasting the closed world of an Eastern European shtetl with the liberal mores of 1860s Vienna. Blending comic and tragic elements, influential filmmaker E. A. Dupont tells the story of the son of a rabbi in Galicia during the 1860s. After participating in his shtetl's Purim spiel, Baruch catches the acting bug and leaves home against his father's will to join a traveling theater troupe. Once in Vienna, an Austrian archduchess develops feelings for him and endeavors to turn him into a great classical actor. Three years after its release, The Ancient Law served as an inspiration for The Jazz Singer (1927), one of Hollywood's first "talkies," in which a cantor's son leaves home to sing jazz in the theater.
The restoration of this lost masterpiece of German-Jewish cinema will be presented with a new and original live music score by award-winning pianist Donald Sosin and Alicia Svigals, the world's leading klezmer fiddler. The performance is made possible by the Sunrise Foundation for Education and the Arts.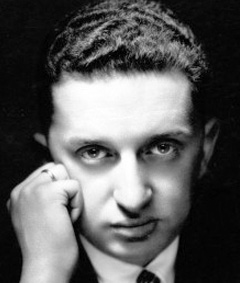 E.A. Dupont was an influential critic and newspaper columnist in the early twentieth century before breaking into the film industry and becoming a well-known exponent of the German expressionist movement.
| | |
| --- | --- |
| Foreign Title | Das Alte Gesetz |
| Director | E.A. Dupont |
| Countries of Production | Germany |
| Year of Presentation | 1924 |
| Language(s) | German with English intertitles |
| Premiere Status | Florida Premiere |
| Runtime | 135 minutes |
| | |
| --- | --- |
| Principal Cast | Henny Porten, Ruth Weyher, Hermann Vallentin, Avrom Morewski |
| Sponsor(s) | Vi at Aventura |