Date
Location
Tickets
7:00 PM - WED 1/24
MIAMI BEACH JCC
Buy
Florida Premiere
Keep the Change
Directed by Rachel Israel
US | 94 minutes | 2017
Cross New York City with the goal of finding true love and you have the makings of the heart-warming, groundbreaking romantic comedy, Keep the Change. David Cohen is not your average New Yorker. Coming from an exceptionally wealthy Jewish family with Long Island and Florida estates, he has never had to work a day in his life. With his dark sunglasses, off-color jokes, and well-practiced cynicism, David believes he can hide his presence on the autistim spectrum. When one of his inappropriate jokes gets him into trouble with the police, he is mandated to attend a JCC support group for adults with autism in Manhattan. At first, David keeps the other participants at arm's length, believing himself to be superior to the "weirdos" surrounding him. However, when Sarah, a pretty and outspoken young woman from his group, confesses an attraction to him, David is surprised to discover that the feeling is mutual. As he begins to open up to Sarah, the possibility that one day he may be able to be himself without apology inspires his confidence and lifts his spirits. Winner of three awards at the Tribeca Film Festival, including the Jury Award for Best Film, and winner at the Karlovy Vary Film Festival for Best Debut, Keep the Change is an award-winning film that will be among the most genuine and memorable romantic comedies you will see all year.
Actor Brandon Polansky will be in attendance to introduce the film and participate in an extended conversation afterward.
The short film Life Through A Lens will precede the feature presentation. Film subject Robert Zuckerman will be in attendance to introduce the film.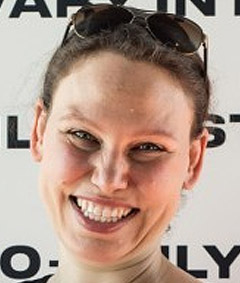 Rachel Israel is an adjunct professor at RISD and has directed short films that have screened worldwide. Rachel's feature film debut, Keep the Change, received support from the Sundance Institute and the Princess Grace Foundation.
Director
Rachel Israel
Countries of Production
US
Year of Presentation
2017
Language(s)
Premiere Status
Florida Premiere
Runtime
94 minutes
| | |
| --- | --- |
| Principal Cast | Brandon Polansky, Samantha Elisofon, Nicky Gottlieb, Lori Burch |
| Award(s) | Winner of the Jury Award, Best Director, and the Nora Ephron Prize at the Tribeca Film Festival |