Date
Location
Tickets
7:00 PM - TUE 1/24
MIAMI BEACH CINEMATHEQUE
Rush Line
Florida Premiere
Big Sonia
Directed by Leah Warshawski & Todd Soliday
US | 90 minutes | 2016
At 4'8", Sonia Warshawski can barely see over the leopard-skin-patterned steering wheel of her Oldsmobile. But at age 90, Sonia has a personality that towers over her Kansas City community, where she has tirelessly run her late husband's tailoring business for decades. The shop is the last business left operating in a lonely corner of a dying shopping mall, but for Sonia, it's the vibrant center of her long, eventful life. Every day she faces the threat of eviction, but Sonia has experience with escaping finality: As one of the last remaining Holocaust survivors in Kansas City, she witnessed the unspeakable horror of her mother disappearing behind the doors of a Nazi gas chamber. Today she still dispenses positive life lessons (known as "Soniaisms"), and speaks to local churches, schools, and prisons about the atrocities she endured as a teenager. Husband-and-wife filmmakers Todd Soliday and Leah Warshawski (Sonia's granddaughter) tell Sonia's story in this moving and uplifting documentary that interweaves first-person narratives with memories from family and friends.
Directors Leah Warshawski and Todd Soliday will be in attendance for a special wine reception at 6:30pm, and will also be present to introduce the film and participate in an extended conversation afterwards.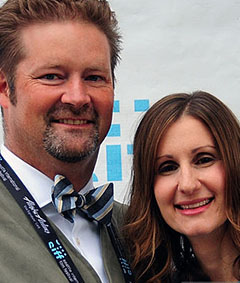 Leah Warshawski is a director and producer who specializes in creating documentary-style content. Her interest in global issues and identity shaped her debut documentary Finding Hillywood, which focused on the Rwandan film industry. Todd Soliday is an Emmy Award-winning director and editor who has worked around the world.
Director
Leah Warshawski & Todd Soliday
Countries of Production
US
Year of Presentation
2016
Language(s)
Premiere Status
Florida Premiere
Runtime
90 minutes
| | |
| --- | --- |
| Principal Cast | Sonia Warshawski, Regina Kort, Morrie Warshawski, Debbie Warshawski |