Date
Location
Tickets
6:00 PM - MON 1/16
O CINEMA MIAMI SHORES @ MTC
Rush Line
7:00 PM - TUE 1/17
TEMPLE BETH SHOLOM
Buy
Florida Premiere
Aida's Secrets
Directed by Alon & Shaul Schwarz
Israel-Germany-US | 90 minutes | 2016
Hebrew with English subtitles
Aida's Secrets is a powerful sojourn into the past, steeped in layers of history and reverberating with untold secrets. Generations of family secrets are uncovered in this sweeping international story that begins with the Second World War and concludes with an emotional twenty-first century family reunion. Izak Szewelewicz was born inside the Bergen-Belsen Displaced Persons camp in 1945 and put up for adoption in Israel. Secret details of his birth mother, an unknown brother in Canada, and his father's true identity slowly emerge in this astonishingly heartfelt investigative documentary. Poignant questions of identity, resilience, compassion, and the plight of displaced persons are brought to life as brothers Izak and Shep meet in Canada, and travel to Quebec to meet their elderly mother, the mysterious Aida. Winner of the Audience Award at 2016 Docaviv International Film Festival.
Director Alon Schwarz will be in attendance to introduce the film and participate in an extended conversation afterwards.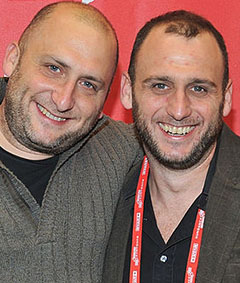 Shaul Schwarz is an Israeli documentary filmmaker who has shot and directed content for TNT, The Discovery Channel, The History Channel, and CNN. Alon Schwarz has directed short documentaries and produced a number of commercial films. Aida's Secrets is the second film that Shaul and Alon have collaborated on.
Director
Alon & Shaul Schwarz
Countries of Production
Israel-Germany-US
Year of Presentation
2016
Language(s)
Hebrew with English subtitles
Premiere Status
Florida Premiere
Runtime
90 minutes
| | |
| --- | --- |
| Principal Cast | Or Ilan, Liron Levo, Nataly Attiya, Dan Turgeman, Anat Atzmon, Gil Alon, Tamar Shem Or, Moshe Ivgy |
| Sponsor(s) | Jayne Shapiro |
| Award(s) | Audience Award at Docaviv International Film Festival |