Family Day Presentation
Prince of Egypt
Directed by Brenda Chapman & Steve Hickner
US | 99 minutes | 1998
Born a slave and set adrift in the river, Moses (voiced by Val Kilmer) is raised as the son of Pharaoh Seti (Patrick Stewart, MJFF 2014) and is a fitting rival for his stepbrother Rameses (Ralph Fiennes). When he learns of his roots—in a knockout sequence in which hieroglyphics come alive—he flees to the desert, where he finds his destiny and heeds God's calling to free the slaves from Egypt. With songs written by Oscar-winner Stephen Schwartz and sung by Whitney Houston and Mariah Carey, The Prince of Egypt covers all the classic story points of the story of Moses, including the ten plagues and the parting of the Red Sea. The all-star cast includes Val Kilmer, Sandra Bullock, Michelle Pfeiffer, Ralph Fiennes, Helen Mirren, Steve Martin, Martin Short, Jeff Goldblum, Danny Glover, and Patrick Stewart.
Featuring a special performance by the New World Symphony Connection.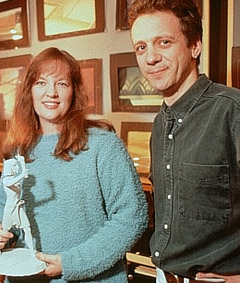 Brenda Chapman became the first American woman to direct an animated feature film from a major studio with The Prince of Egypt (1998). In 2012, she also became the first woman to win the Oscar for Best Animated Feature Film for Brave. Steve Hickner has worked in animation for over four decades, and worked on such films as Who Framed Roger Rabbit (1988) and We're Back! A Dinosaur's Story (1993).
Director
Brenda Chapman & Steve Hickner
Countries of Production
US
Year of Presentation
1998
Language(s)
Premiere Status
Family Day Presentation
Runtime
99 minutes
| | |
| --- | --- |
| Principal Cast | Val Kilmer, Ralph Fiennes, Michelle Pfeiffer, Sandra Bullock, Jeff Goldblum, Danny Glover, Patrick Stewart, Helen Mirren, Steve Martin, Martin Short |
| Award(s) | Winner of the Academy Award for Best Original Song |