30th Anniversary Presentation
Broadway Danny Rose
Directed by Woody Allen
US | 84 minutes | 1984
In one of his finest romantic comedies, Woody Allen plays a no-hope theatrical agent, Danny Rose (his clients include balloon twisters, wine-glass players, and bird trainers), who finally has a shot at getting somewhere when he signs washed-up lounge singer, Lou Canova (Nick Apollo Forte). Canova has a complicated love life, juggling both a wife and a Mafia widow girlfriend (Mia Farrow), so he asks Danny to act as a beard for him during a concert which could lead to his big break. What follows is a picaresque adventure that is immediately charming and, in the end, unexpectedly moving. Shown in a newly restored 35mm print.
Hosted by acclaimed director Whit Stillman (Metropolitan, Barcelona, Last Days of Disco).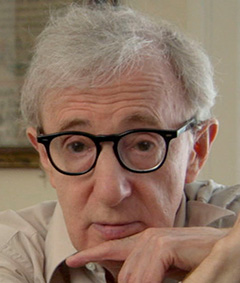 Woody Allen is an American screenwriter, director, actor, comedian, author, playwright, and musician whose career spans more than 50 years. He has won over 113 international prizes, including the Oscar 4 times, most recently for Midnight in Paris.
Director
Woody Allen
Countries of Production
US
Year of Presentation
1984
Language(s)
Premiere Status
30th Anniversary Presentation
Runtime
84 minutes
| | |
| --- | --- |
| Principal Cast | Woody Allen, Mia Farrow, Nick Apollo Forte, Milton Berle |
| Award(s) | Nominated for 2 Academy Awards |