Jul 16, 2021
Summer Movies Under the Stars
The Miami Jewish Film Festival and the City of Miami Beach are thrilled to announce a special three-week summer film series hosted under Miami Beach's dazzling stars. From July 22 through August 5, the series will bring classics, family favorites, and exciting blockbusters across the city every Thursday and Sunday night at 8:15pm. All the events are free to the public and will be presented at five different public parks in Miami Beach, including Lummus Park, Collins Park, and Pride Park, among others. The program is dedicated to safely bringing the South Florida community together and lifting everyone's spirits around the shared cinematic experiences that our Miami Jewish Film Festival is known for.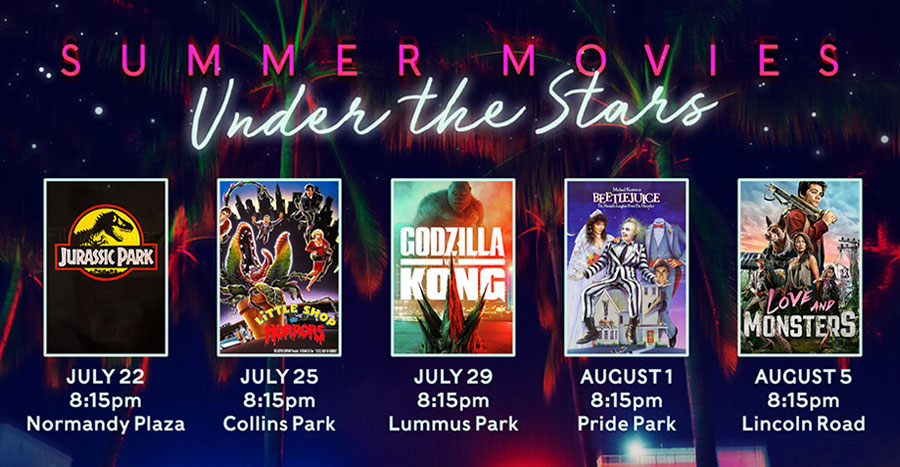 The series kicks off on Thursday, July 22 with a newly restored presentation of Steven Spielberg's Academy Award-winning masterpiece Jurassic Park, and continues on Sunday, July 25 with a special 35th-anniversary celebration of Little Shop of Horrors featuring a who's-who of '80s comedy stars, including Rick Moranis, Steve Martin, and Bill Murray.
Other highlights in the program include the spectacular blockbuster Godzilla vs. Kong; the timeless dark comedy Beetlejuice starring Michael Keeton, Alec Baldwin, and Geena Davis; and the action-adventure Love and Monsters, a fun, imaginative, heartfelt story starring Dylan O'Brian.
Guests are encouraged to bring a blanket, lawn chairs, drinks, snacks, and even pets to the movies to make themselves at home.
We recognize the challenges so many families and community members have faced over the last few weeks, and we wanted to create an experience where they could come together safely to create new memories. At the core of our Miami Jewish Film Festival, we aim to bring people together through the arts and to send a signal of unity and resiliency when our community needs it most. At a time when people are eager to connect and convene again, we're taking the spirit of our festival across the City of Miami Beach by creating a safe environment where audiences can come together and enjoy the sense of connection found by going to the movies. This series is a tribute to movies and the shared experience of watching them under Miami Beach's dazzling stars
The Summer Movies Under the Stars series is a free public event for friends, families, and film fans to experience together. If you enjoy this program and all that MJFF provides year-round to our community, then consider supporting us and becoming a Member today so we can continue presenting the best in world cinema through our dynamic programs.
Find the complete schedule listing showtimes and locations for the Summer Movies Under the Stars Series below:
Summer Movies Under the Stars